Welcome to.....
Edryn Miniature Poodles
Sadly Edryn poodles has come to an end.
Ed passed away October 15, 2011.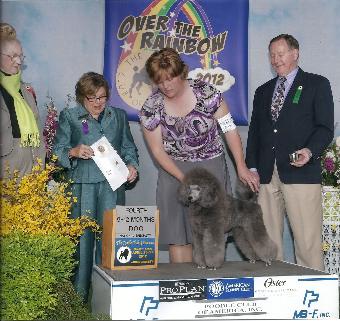 June 5, 2013
Einstein is the last silver Ed bred to be shown. Shown going 4th in his class at PCA, 2012.
This boy has has 13 points and 3 majors. He's gone winners dog 8 of the last 10 shows he's been shown in. He has been shown 14 times . He was shown to all wins by his owner/handler.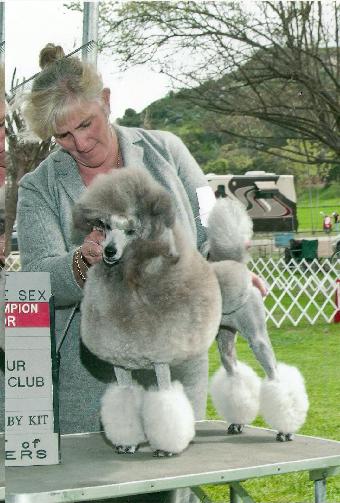 AKC. Ch. "Merlin"
This exciting young dog finished his AKC Ch. title from 12 to 18 class with 3 majors.
Handled exclusively by Jacqueline Fargey
Shown above winning a 4 point major from 12 to 18 class
Judge Elizabeth McKennon
My name is Ed Sweet and I have been showing and breeding poodles for 40 years. I have finished 57 AKC champions, 6 UKC champions and own 3 top ten UKC dogs. I have also finished FCI , Canadian, and Mexican champions. I am an AKC judge. Currently I show my dogs in the UKC shows. I have apricot, red, and parti colors.
My dogs are DNA checked for PRCD.
All dogs are handled exclusively by Jacquie and Ken Fargey.
They take excellent care of the dogs and are kind and loving to them. The dogs always come home in great shape.
Photos of some of the champions on these pages.